Ultrafast nanooptics
3rd Student Seminar
As already announced at the UNO3 workshop in Bad Dürkheim, an internal SPP seminar for graduate students and Post-Docs will be held in the area of Würzburg/Bavaria from Sept. 29th to Oct. 1st 2014.
The seminar seeks to foster the contact and scientific exchange between the different projects within the SPP on the graduate student and Post-Doc level. The oral and poster presentations offer enough room for discussions about experimental and theoretical progress.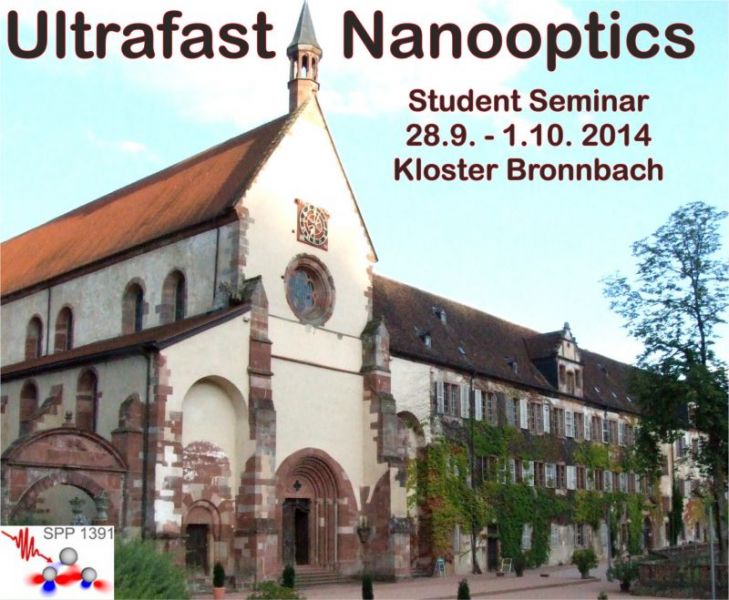 The seminar will take place at the "Kloster Bronnbach" (http://www.kloster-bronnbach.de/) near Wertheim, located 40 km west from Würzburg. For transfer, a bus from Würzburg main station to the monastery leaving around 12:30 on Monday and arriving back at the Würzburg main station on Wednesday around 15:00 is organized. The seminar will start after lunch on Monday (29.9.), and end after lunch on Wednesday (1.10.).
In addition to the scientific program there will also be some room for social activities, part of it being a guided tour through the monastery followed by a wine tasting.
Accommodation, food costs and the bus transfer will be covered by the organizational project of the SPP. Travel costs should be covered by the budget of the individual projects.
IMPORTANT:
All participants should contribute to the seminar - so please provide title, author list, affiliations and abstract in addition to your registration information (the corresponding boxes to enter this information appear as soon as you check the submit contribution box).
Note that each SPP project should be presented in an oral contribution. However, in the comments box you can indicate whether you prefer oral or poster presentation for this particular contribution!
Your personal data are filled in automatically using the information saved in your profile.
After successfull registration you should receive an email. If you do not receive such confirmation please get in contact with Christian Oberer. We had some lost registrations last time but found no error!

Extended deadline for registration is Wednesday, September 3!
For questions and further information, please contact: Enno Krauss or Sebastian Götz